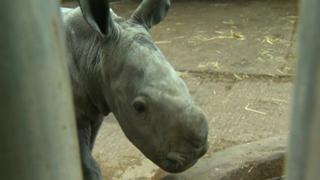 Rare rhino born at safari park
A baby white rhino has been born at Knowsley Safari Park in Merseyside.
She's the latest to be born at the park as a part of a special breeding programme. The newborn weighs a hefty 7 stone.
White rhinos numbers have fallen in the wild because of poaching. They're hunted because their horns are worth a lot of money.
This little one doesn't have a name yet, a competition will be launched to decide what to call her.