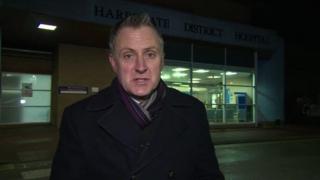 Junior doctors begin 24 hour strike
Many junior doctors in England are protesting against changes the government wants to make to the way they work.
Junior doctors are newer doctors who are still in training.
They say the new ways of working planned by the government are unfair and could make things dangerous for patients because doctors will be too tired to do their jobs properly.
But the government says the plans are fair and will improve care for people going into hospital, particularly at weekends.
Hospital bosses are making plans to ensure patients who need urgent or emergency care will not affected by today's strike.
BBC reporter Dominic Hughes sent this report from a hospital in North Yorkshire.