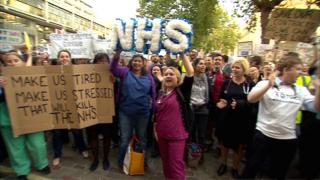 Junior doctors go on strike
Many junior doctors in England are taking part in a 24 hour strike, refusing to go to work because they are unhappy with government plans to change their pay and working hours.
Junior doctors are newer doctors who are still training.
They say the new ways of working planned by the government are unfair and could make things dangerous for patients because doctors will be too tired to do things properly.
But the government say the plans are fair and it will mean things will improve for people going into hospital, particularly at the weekend.
Hospital bosses are making plans to ensure patients who need urgent or emergency care will not affected by the strike.
More strikes and protests are planned for later in the month.