A record £66 million National Lottery jackpot will be shared between two ticket holders who each matched the six winning numbers, Camelot said.
The winning numbers were 26, 27, 46, 47, 52 and 58. The bonus number was 48.
The jackpot, announced live on BBC One, comes after 14 draws in a row found no winner.
TV presenter Noel Edmonds pushed the button for the lottery draw, more than 20 years after presenting the first National Lottery show in November 1994.
Even though Saturday's prize total is to be shared, if each ticket is held by one person only rather than a group of people, their £33 million prize would make them the joint biggest National Lottery winners.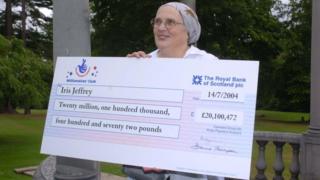 PA
Top 10 biggest Lotto winners
£22,590,829 on 10 June 1995, won by Paul Maddison and Mark Gardiner from Hastings, England

£20,100,472 on 14 July 2004, won by Iris Jeffrey from Belfast, Northern Ireland

£20,088,838 on 8 July 1995, won by six members of the Benson family from Hull, England

£20,000,000 on 16 Sept 2000, won by six members of the Cross family in Lanarkshire, Scotland

£20,000,000 on 12 May 2001, won by someone who said no to having their names revealed

£18,992,109 on 26 Jan 2008, won by Steve Smith from Hemel Hempstead, England

£18,268,465 on 23 July 2005, won by 11 members of a Tesco syndicate from Driffield, England

£18,051,588 on 3 June 2006, won by someone who said no to having their names revealed

£17,880,003 on 10 Dec 1994, won by someone who said no to having their names revealed

£17,799,986 on 9 March 2011, won by Matthew Breach from Battle, England
Source: Camelot Group