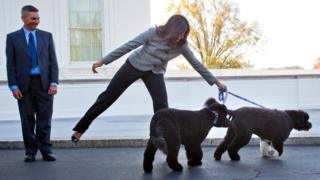 AP
American police have arrested a man who is suspected of trying to kidnap one of US President Obama's two pet dogs.
Officials say Scott Stockert was planning to snatch one of the dogs, either Bo or Sunny.
Police in Washington DC, the country's capital city, found weapons in Mr Stockert's vehicle.
Mr Stockert has been charged with breaking the District of Columbia's gun laws.
Barack Obama's family got Bo in 2009, with Sunny following in 2013.