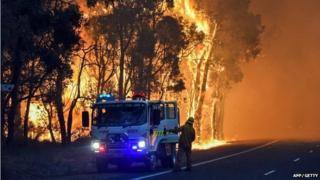 Australian bushfire destroys small town
A bushfire in Western Australia has destroyed about 95 homes in the small town of Yarloop and continues to burn out of control.
Though the strong winds which have been fanning the flames have eased, the blaze remains unpredictable. Extra firefighters have been flown in to help.
Three people are missing and witnesses described multiple fireballs in the historic town, located south of Perth.
Australia is experiencing another extreme bushfire season. More than 100 homes were destroyed during an outbreak on Christmas Day in the southern state of Victoria.
Chris Gable a volunteer firefighter in Western Australia told the BBC that there are a number of places still in the fires path.