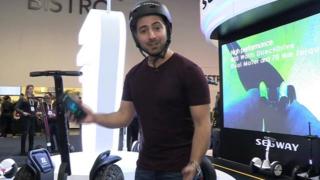 New scooter 'safer than a hoverboard'
A new self-balancing scooter has been revealed at the world's biggest gadget show, CES 2016.
The company behind the Segway Ninebot Mini Pro claim it's safer than a hoverboard.
The scooter also comes with an a phone app that you can sync with the gadget so you can control how fast you go.
Ricky had a go on the Mini Pro at the show in Las Vegas, USA.