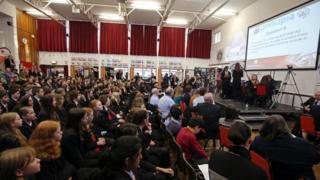 School kids speak to Tim Peake in space
A school in St Albans has linked up with Tim Peake live at the International Space Station.
The school children got to ask Tim questions about his mission and what it's been like living in space so far.
To celebrate them linking up with Tim, they've even thrown a space festival at the school.
Hayley is spending the day with the children and spoke to them about linking up with the ISS.
Three other schools in the UK will be contacting Tim to ask him questions over the next few months.