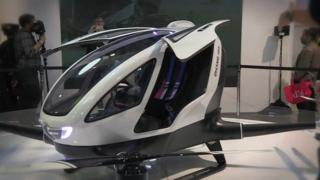 The drone you can sit inside
Tech companies have been unveiling their newest gadgets at a massive tech show called CES in Las Vegas, America.
One of the latest drone prototypes on show looks a bit like a helicopter and allows a passenger to sit inside of the drone.
It's controlled by a tablet and the passenger can choose their destination on it.
The drone, which has 8 propellers, takes between 2-4 hours to charge and would last for around 23 minutes flying time.