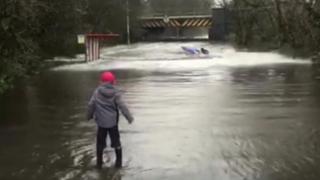 Bus stop jet-ski goes viral
December was the UK's wettest month in more than a hundred years.
One part of the country badly hit was Lancashire, where water sports fans found that it was even deep enough to jet-ski and canoe close to a bus stop.
The video has gone viral, with more than 1,300 shares and 114,000 views on social media.
Remember floods are dangerous, and you should never go into flood water. Never try anything like this.