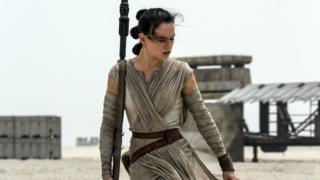 AP
A US toy company says it will add Rey to Star Wars Monopoly after pressure from fans.
Hasbro left the character out of the game, released in September, saying it didn't want to spoil The Force Awakens storyline.
#WheresRey has been trending on Twitter since last year after fans noticed Daisy Ridley's character wasn't one of the tokens in the latest version of Star Wars Monopoly.
Hasbro revealed the change to the game in a tweet to fans, saying the new version of the game will be available later this year.
At the moment the board game features Finn, Kylo Ren and Luke Skywalker, but not Rey, the main character in Episode VII.
The game also features Darth Vader, who died in Return of the Jedi in 1983.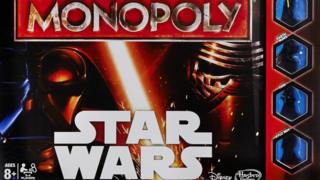 Hasbro/Disney
Hasbro gave out a statement on Tuesday saying Star Wars Monopoly didn't feature Rey to "avoid revealing a key plot line that she takes on Kylo Ren and joins the Rebel Alliance".
The company says that the Jakku scavenger already features in other Star Wars games including Hands Down, Guess Who and Chess.
Further complaints
A mum posted a letter on social media that her eight-year-old daughter had written about the missing character, it said:
"Dear Hasbro, How could you leave out Rey?! She belongs in Star Wars Monopoly and all the other Star Wars games!
"Without her, THERE IS NO FORCE AWAKENS! It awakens in her! And without her, the bad guys would have won!
"Besides, boys and girls need to see women can be as strong as men! Girls matter! Boy or girl, who cares? We are equal, all of us!"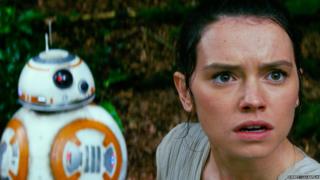 Disney/LucasFilm
Star Wars released its official poster in October, which featured Rey in the most prominent position possible.