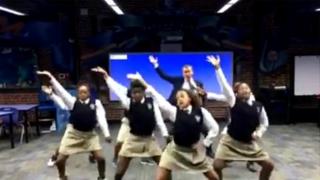 US teacher's dance with pupils goes viral
American teacher, Ron Clark, has had plenty of attention in the US for his energetic and unique teaching methods, which often involve music.
The teacher, who has been named National Teacher of the Year in the past, started his own Academy in 2007 because he says was inspired by Hogwarts School of Witchcraft and Wizardry in J.K. Rowling's Harry Potter novels.
This week he posted a video of himself and a few of his students rocking out together.
Within 14 hours of posting, the video had been viewed more than 1.5 million times and shared more than 44,000 times.
It's one of 2016's biggest social media hits so far. Take a look!
Footage courtesy of The Ron Clark Academy