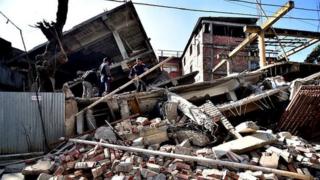 Earthquake hits north-east India
An earthquake measuring 6.7 magnitude has hit north-east India, near its borders with Myanmar and Bangladesh.
At least nine people have been killed in the quake that struck at 04:35 local time (23:05 GMT) on Sunday.
Strong tremors have been felt across the region.
Police in Imphal, capital of the north-eastern state of Manipur, say the tremor cracked walls and a caused a six-storey building to collapse.
Indian soldiers and locals helped remove debris from the building.
Shaking was felt as far away as Kolkata 600km (370 miles) away.
Earthquakes are classified in categories ranging from minor to great, with minor being three and eight being a classed as a major quake.
Watch the BBC's Justin Rowlatt in India for more on the story.