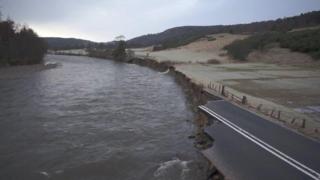 Drone shows damage in North East Scotland
A section of a main road near Ballater, in the North East of Scotland, collapsed due to flooding caused by Storm Frank.
Part of the carriageway fell away into the water.
Aerial footage, filmed using a drone, reveals the full extent of the damage.
More than 30 further flood warnings have been given for Scotland because of strong winds and heavy rain expected today.