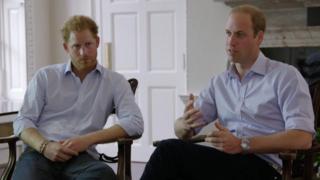 Ant and Dec interview William and Harry
In an interview with Ant and Dec, Princes William and Harry have been speaking about their Dad's work with the Prince's Trust charity.
It was set up by Prince Charles 40 years ago and has become one of Britain's biggest youth charities and has helped more than 825,000 young people.
In the programme, William and Harry tell Ant and Dec how they go to their Dad for help and advice and how becoming a father has changed William.
"I'm a lot more emotional than I used to be, weirdly.
"I never used to get too wound up or worried about things. But now the smallest little things, you well up a little more, you get affected by the sort of things that happen around the world or whatever a lot more, I think, as a father."
Prince Charles said he hoped his sons would take over the trust one day.
When Ant & Dec Met The Prince: 40 Years of The Prince's Trust, will be broadcast on Monday 4th January, 9.00pm, ITV