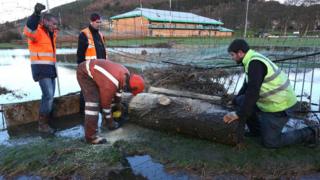 Getty Images
Clean-up operations are taking place across the UK as flooding caused by Storm Frank continues to fall back.
It comes after hundreds of homes were evacuated and thousands left without power amid heavy rain and high winds.
Lots of UK flood warnings remain in place after Storm Frank hit Scotland, Northern Ireland and northern England.
Drier weather is expected for New Year's Eve but fears of more flooding remain with north-east Scotland facing heavy rain on Sunday and Monday.
Storm still causing trouble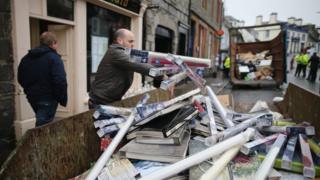 Getty Images
More than 20 flood warnings - which mean urgent action is needed - remain in place in Scotland, with another 21 in England and Wales.
In Northern Ireland, more than 270 roads were blocked by floods or fallen trees, with some still blocked.
Latest early statistics from the Met Office show December has been record-breaking both for temperature and rainfall.
The UK average temperature from 1 to 29 December was a record-breaking 8 degrees Celsius, which is 4 degrees above the long-term average. The previous record was 6.9 degrees Celsius in 1934.
It was also the wettest December on record for Scotland and for Wales, which saw both saw a third more rain than the December average.