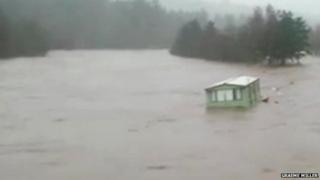 Mobile home smashes into bridge in floods
Footage has appeared showing the moment a mobile home swept away by flooding in Ballater, Aberdeenshire, smashed into a bridge and was dragged underneath it.
The mobile home was filmed by Graeme Miller as it made its way down the River Dee.
No one is believed to have been in the home.
Power cuts, widespread flooding and landslips were reported across many parts of the UK as Storm Frank hit on Tuesday night.