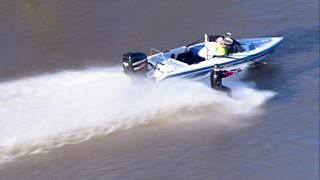 Helicopter catches waterskier in floods
After days of severe flooding, aerial footage from the skies above Selby and York shows that the flood waters are starting to get lower.
December has already seen communities in Cumbria, Lancashire, Greater Manchester and Yorkshire devastated by record river levels.
Although many people in these affected areas are now trying to clean up, a BBC crew aboard a helicopter captured pictures of a waterskier taking to the flooded rivers around Cawood, in the Selby district of North Yorkshire.