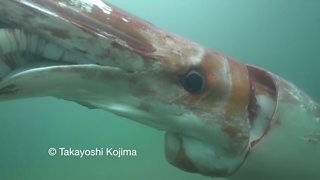 Giant squid swims into Japan harbour
A giant squid provided a rare treat for people in Toyama Bay, Japan, when one swam into the harbour.
The 3.7-metre-long cephalopod was much smaller than the 13 metres they can grow to.
It spent several hours in the harbour on Christmas Eve and was filmed by local divers.
Professional underwater cameraman Takayoshi Kojima told the BBC he rushed to the harbour when a marina manager called and he helped guide the squid to the exit to the sea, where it finally disappeared.