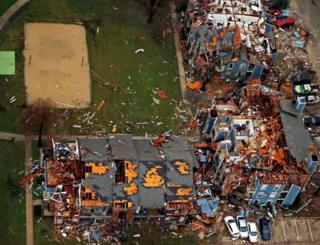 AP
Flash floods, tornadoes and now snow have destroyed hundreds of homes and businesses and caused transport chaos across southern and western parts of the United States.
The National Weather Service has issued tornado warnings for the states of Texas, Arkansas, Louisiana, Oklahoma and Mississippi.
The bad weather forced the cancellation of nearly 1,500 flights on Sunday, according to tracking service FlightAware.com.
At least 43 people have been killed over the past five days by severe storms.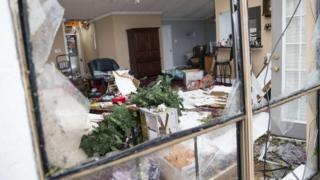 AFP
In Texas, powerful tornadoes, with winds of up to 200 miles an hour, reduced hundreds of homes to rubble and blew cars off the road.
Parts of New Mexico, where a state-wide emergency has been declared, are expecting up to 60 centimetres of snow. The New Mexico city of Roswell recorded 12.3 inches of snow on Sunday - an area record for a single day.
Oklahoma Governor Mary Fallin declared a state of emergency on Sunday ahead of an ice storm expected to pass through the state.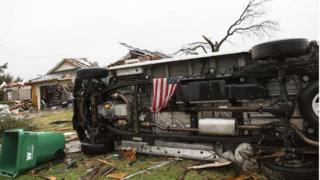 AFP
While extreme weather in the US around Christmas is not unknown, meteorologists say that unusually high temperatures in some areas added to the severity of the storms.
The forecast for the eastern US is for high temperatures to continue - the US capital city Washington DC pushed close to 21 degrees Celsius on Sunday.