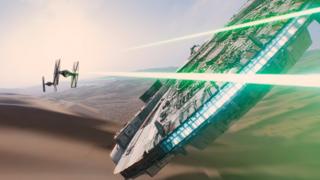 Disney/Lucasfilm
Star Wars: The Force Awakens has become the fastest film to make $1 billion (£674 million) at cinemas across the world.
JJ Abrams' film achieved the figure in 12 days, beating the previous record of 13 days set by Jurassic World in June.
Jurassic World was helped by record takings in China but The Force Awakens is not open there yet.
Star Wars also scored the biggest US Christmas Day box office takings in history with £33.2 million.