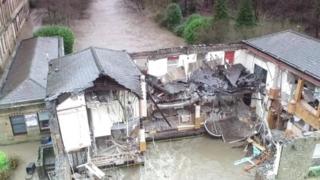 Flood water washes away building
A 200 year-old pub in Greater Manchester has collapsed due to flood waters and some of it has been washed away by the River Irwell.
No-one was in the pub at the time it collapsed.
Record rainfall has caused flooding in parts of northern England, Wales and Scotland.
Severe weather warnings have been issued meaning that conditions could be dangerous for people.
Take a look at this.