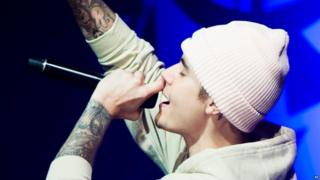 AP
Justin Bieber has backed the Lewisham and Greenwich NHS Choir to be this year's Christmas number one.
Both artists are fighting for the festive top spot.
The choir's charity single A Bridge Over You, is only 662 sales behind Bieber's Love Yourself.
The Canadian singer said on social media: "Let's do the right thing and help them win. It's Christmas."
Bieber was 7,000 ahead on Tuesday.
But in the following the next 24 hours that lead was cut.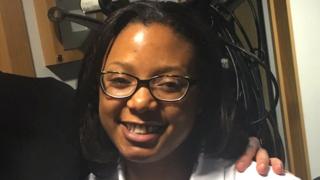 Joe Blunden
"I can't believe we're actually in the charts competing for number one,"says choir member Liz Steele who's a physiotherapist at Lewisham Hospital..
The choir is made up of NHS staff, including doctors, physiotherapists, porters and nurses.
"We've got some pretty tough competition so to be in this position is amazing... anything could happen."
The Christmas number one is based on a combination of sales and streaming.
It will be announced on Radio 1 on Christmas Day with Greg James.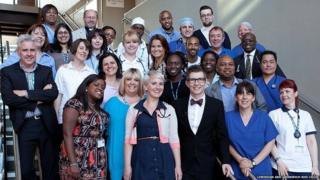 Lewisham and Greenwich NHS Choir
The choir took the early lead in the race, before Bieber's Love Yourself nudged ahead on Monday.
"We're in a Justin Bieber sandwich!" Liz joked. "He's sold millions of records around the world and has millions of fans - it's just a bit bonkers."
The Canadian singer is also at number three in the midweek singles chart with Sorry.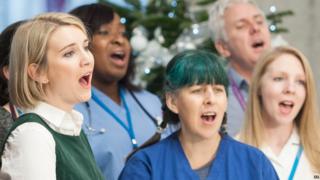 PA
A Bridge Over You is a mash-up of two songs - A Bridge Over Troubled Water by Simon & Garfunkel and Coldplay's Fix You.
"It celebrates what the NHS is all about in terms of us being there for people, helping people get better and recovering.''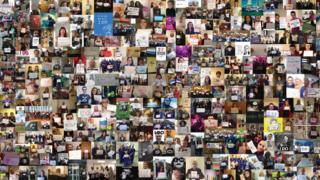 Lewisham and Greenwich NHS Choir
The song was actually first released in 2013 but a campaign to get it to this year's Christmas number one was started in October.
Money made from the single is going to health charities.
"I think it could be anyone's, anyone who is in that top 10 and has that momentum behind them," said Liz.