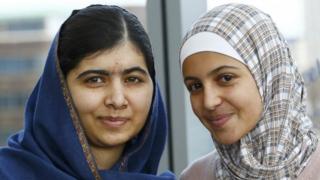 Malala and Muzoon reunited in the UK
Two young girls who have been fighting for girls to get a better education have been reunited.
Malala Yousafzai was attacked on a school bus in Pakistan by the Taliban, an extreme Islamist terrorist group in October, 2012. She was just 15.
Malala was seriously injured in the attack, but she was flown to the UK for treatment and has recovered well.
She had been trying to make sure girls all over the world can go to school and learn skills to give them a better future.
Last year she met Muzoon Al-Mellehan, who has been called the "Malala of Syria". She had been living in a Jordanian refugee camp.
She too has been fighting to help girls get educated in the refugee camps and in other countries overseas.
The girls have now been reunited in the UK after Muzoon's family was granted refugee status.
They spoke to the BBC's Lyse Doucet about their struggle to make sure girls can go to school.