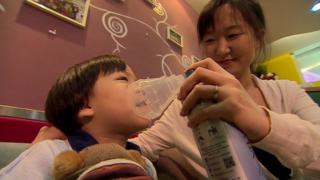 Chinese buy fresh air for kids from Canada
Parents in Beijing are so worried about the thick smog polluting the atmosphere some are buying cans of fresh air from the mountains in Canada.
The capital of China, Beijing is still blanketed under a thick layer of pollution and smog.
The city has been on 'red alert'- the highest warning given out by the Government - that encourages people to stay indoors or wear special face masks if they go outside for several days.
Coal is used to power some Chinese factories and since it's cold now, more people are using it to heat their homes, so there is more pollution.
More and more Chinese people are now taking precautions against the air pollution.
One mum Li Tianqin is so worried about her three year old daughter that she has an air filter and she's buying cans of fresh air, from Canada's Rocky Mountains to try to stop any breathing problems.
She doesn't know if it will help or not but she says she will do everything she can to try to help.