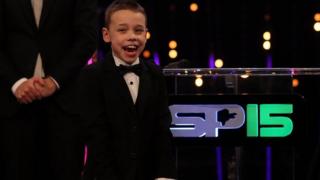 Bailey Matthews wins special award at SPOTY
8 year old Bailey Matthews has won the Helen Rollason award at the BBC's Sports Personality of the Year (SPOTY) awards.
The award is presented for an "outstanding achievement in the face of adversity".
Bailey from Yorkshire has cerebral palsy, but completed his first children's triathlon at Castle Howard in June, without any help.
See Bailey Matthews first triathlon
At the awards ceremony he had to ask the crowd to stop cheering.
He received another big ovation as he said a small speech.