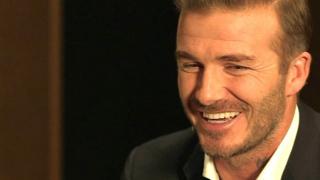 What is Xmas like in David Beckham's house?
Former England football captain David Beckham says Christmas at home is very traditional.
He says his family spend it in London with family and eat a big roasted turkey for dinner.
He says people imagine his wife, Victoria Beckham, is hard to buy presents for but he says he knows her so well, he doesn't struggle.
He was talking to the BBC's Colin Paterson about being a role model for children too and says it's very important to behave properly when you are a famous public figure.
He was also talking about playing seven football games across seven continents in 10 days for a BBC documentary.
David Beckham: For the Love of the Game is on BBC One on 29 December.