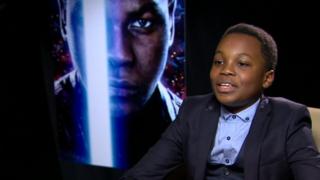 NR viewer Jonas meets Star Wars actor
The latest Star Wars film, The Force Awakens has swooped into cinema screens across the world this week.
So, we sent Newsround viewer Jonas to chat to actor John Boyega, who plays Finn in the latest film.
What John doesn't know is that Jonas goes to the same drama school that he went to as a kid.
Check out John's top acting tips, and watch his epic Chewbacca impression...