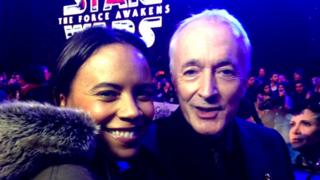 Leah joins Star Wars cast at premiere
The Star Wars cast have attended the European premiere of The Force Awakens in London's Leicester Square.
Leah caught up with the stars old and new as they all walked the glamorous red carpet.
British actors Daisy Ridley, who plays Rey and John Boyega, who plays Finn, were there enjoying the atmosphere.
They were joined by Darth Vader and his stormtroopers too, who were making sure everyone behaved themselves.