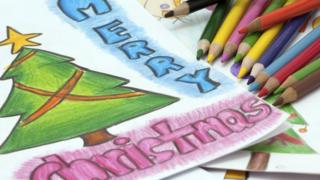 Getty Images
Ho, ho, ho! It's nearly Christmas and that means that school is nearly over for the holidays.
Here at Newsround HQ we have been getting in the festive spirit, and we want to know what you will be doing on your last day of school?
What Christmas activities have you got planned?
Will you be sending Christmas cards to your teachers and friends?
Are you making any Christmas decorations?
Will you be bringing in games to play or films to watch?
Are you wearing any snazzy Christmas outfits?
This chat page is now closed. Thank you for your comments.
Your comments
We are having an international festival in the morning, where we will be "visiting" countries such as India, China, Egypt, Japan and many others. And then in the afternoon, we are having a party which will include some British games, such as pass the parcel!
4th Grade class, Union Elementary School, North Carolina, USA
Our last day of school will mostly be spent playing games and watching movies. But not just any games…Christmas party games! We are also bringing our lovable toys in. As well as that, we are wearing Christmas jumpers.
Maple class, Year 5, Shawley Community Primary School
We are going to have a pyjama party! - We will play some Christmas games and watch our favourite Christmas films. We can't wait!
Chestnut Class at Five Acres Primary School in Oxford
On the last day of term we have the our school Talent Show.
Year Three, Newport Community School Primary Academy, Devon
At my school we're singing carols and having a free Christmas dinner.
Katie, Lincoln, England
On my last day I am doing a science exam.
Callum, Blackpool, England
My class is doing a talent contest.
Orla, Devon, England
On the last day of school I will only be having two lessons, then after break we have an end of term assembly.
Jessica, London, England
I will have a Christmas party and watch a film on the last day of school.
Alex, Suffolk, England
At school we are going to have a games morning, and then we get to watch a film all afternoon.
Iona, Edinburgh, Scotland
I'm going to make my teachers Christmas cards. and some for friends.
Caitlin, Somerset, England
I will be wearing Christmas jumpers, and then we are going to watch the talent show. Then I will be going to a party.
Carys, Ammanford, Wales
On our last we are doing a Christmas concert for our year group and we get to leave at 12:30.
Freya, Birmingham, England
We're wearing Christmas jumpers.
Lucy, Farnborough, England
Wearing Christmas jumpers and going to Church to sing Christmas songs.
Heather, UK
We are saying goodbye to our head teacher who is moving to a new job.
Emily, Preston, England