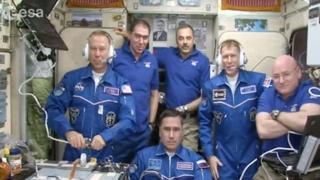 Tim Peake: 'It was a beautiful launch'
British astronaut Tim Peake has arrived at the International Space Station and spoken to his family.
The former army pilot blasted off from Baikonur, Kazakhstan in a Russian Soyuz rocket on Tuesday morning.
After a delay opening the hatch, Major Tim was able to speak to his wife, Rebecca, and his mum and dad back in Baikonur.
"Everybody sends their love and I hope you have a wonderful time," said his mother, Angela.
"Thanks very much - and love to everybody back home."