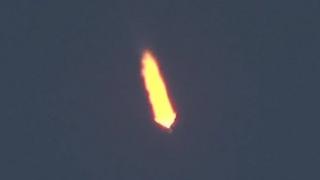 Boosters safely flip off Tim Peake rocket
Tim Peake launches into space to become Britain's first official astronaut on board the International Space Station.
His lift-off, on a Russian Soyuz rocket with Russian commander Yuri Malenchenko and US astronaut Tim Kopra, happened at 11.03am (UK time).
It will take them six hours to catch up with the space station, hurtling through space at 17,500mph.
Canadian astronaut Chris Hadfield, who watched the launch, explains what happens to the rocket about one minute after lift off.