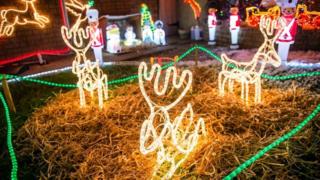 The house with 50,000 Christmas lights
Christmas is just around the corner, and this house in Bristol has been getting into the festive spirit, in a big way!
It's been decorated with over 50,000 Christmas lights including a nativity scene, and 70 different figures.
The display took 12 days to put together and hundreds of people gathered there for the big switch-on.
The family who live in the house have been decorating it with lots of Christmas lights for the last 21 years.
Any money raised by people who like the family's Christmas display, goes to charity.