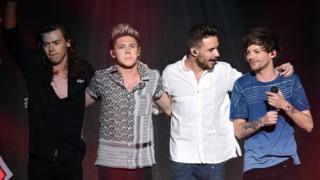 Getty Images
One Direction gave their last performance at the X Factor final before they head off for a break.
Liam, Niall, Harry and Louis started their careers on the X Factor stage where they came in third place.
The 2015 final was an opportunity to say goodbye to the fab foursome.
They performed their latest song, Infinity.
A film of goodbye messages were played.
Among the stars who recorded messages for the band were footballer Wayne Rooney, filmstar Danny De Vito, and Little Mix.
Footballer David Beckham was filmed singing along to one of their songs in the car, before saying to them: "Congratulations, you've given us years of incredible moments and you need to come back soon."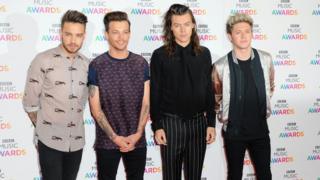 Getty Images
The boys sang a second song called History, before hugging each other.
Liam Payne told host Olly Murs: "It's been the most amazing five years. We are sad to be going away for a little while but we need it, thank you to all the fans who've supported us over the years."