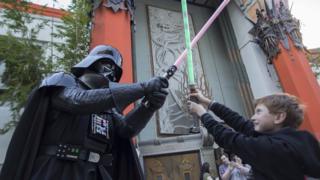 Getty Images
The premiere of the latest Star Wars film, The Force Awakens, has brought hundreds of fans out.
The premiere takes place in Hollywood in America tonight.
Fans have been camping outside the three cinemas, where the film will be shown, for a chance to get tickets since last week.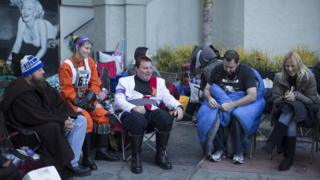 Getty Images
Fans have been told they must spend at least 24 hours in the queue to be able to buy two tickets, and have to wait another 24 hours to be able to buy an extra ticket.
The film is the seventh in the series and will have its UK premiere in London on Wednesday.
In October some cinema websites stopped working because they could not cope with the amount of people who were trying to buy tickets.