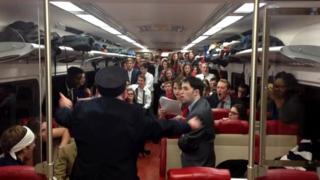 Ticket collector conducts choir
You might expect a train conductor to collect tickets, or maybe tell you timings, but what about this?
Watch the incredible moment a train conductor in America tried his hand at conducting a choir who were on board his train.
The Yale Glee Club were on a choir trip, when the train conductor found out they could sing and decided to have a little festive fun of his own...
Footage courtesy of Nolan Crawford, Greg Suralik & Yale Glee Club