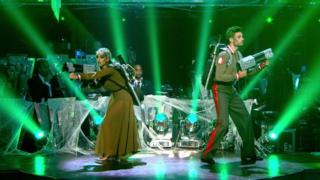 Georgia and Giovanni's tango
Strictly Come Dancing is drawing nearer to it's grand finale, so we have taken a look at some of the best dances from the series.
Georgia ended up in the bottom two during musicals week after dancing to a Beauty and the Beast themed foxtrot.
But it was her Ghostbusters-themed tango from week six that saw her rise to the top of the leader boards for the first time in the series.
She scored 35 out of 40 points and Judge Le Goodman nicknamed her the "Queen of Halloween".