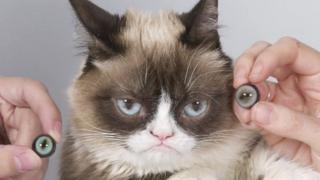 'Grumpy Cat' made at Madame Tussauds
The famous grumpy cat kitty has visited Madame Tussauds in San Francisco for the unveiling of her very own lookalike.
Unlike the usual pop stars and actors recreated as life-size models made of wax, she's been made as a mechanical figure that can lift her head - and even purr.
It took four months to make... but of course, the real grumpy cat didn't look too impressed by it all.
Un-purr-lievable.