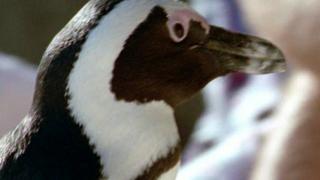 Why are African penguins disappearing?
The number of African penguins in South Africa and Namibia has dramatically fallen in the past ten years.
The penguins pair for life and have their chicks - but the number of pairs has dropped from over 30,000 in 2004 to just over 3,000 in 2014.
Nicky Stander, a Penguin Conservationist says: ''There used to be over a million penguins in the 1930's but now the population is down by around 98 per cent.''
Experts say it's because the sardines and anchovies they eat are disappearing.
They believe it's because of over-fishing and the sea getting warmer.
Jenny's been finding why the penguins are struggling to survive.