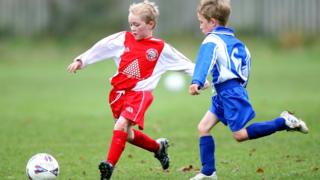 PA
Football results from kids matches in England won't be published anymore - in case it upsets the losing teams.
The Football Association, which is in charge of football in England, has banned newspapers and websites from printing the scores from matches played by Under 7 to Under 11s.
They think that children could be put off playing, if everyone can see the results of the games.
But some people think that losing is just part of playing football.
They believe the results should be published.
So we wanted to know what you thought about it.
This chat is now closed. Thanks very much for sending in your messages.
Your comments
I think that football should be competitive because that's what football is all about!
Lara, United Kingdom
I don't think football should be competitive because after all, it is only a game. Not only that but my little brother can get upset if his team loses and it's published in the school newsletter.
Koda, United Kingdom
The scores don't matter in anything, but what matters is you participating.
Abhyuday, Portsmouth, England
I play every week, it is really competitive. We win and lose an even amount of games. I don't like losing, but I don't feel bad about it. It's all part of the game of football.
Stanley, Glasgow, Scotland
I think that kids' football should be competitive but not too much as they will show off and think they are better than other football teams.
Jessica, London, England
I think that kids' football should be competitive, depending on the child's age.
Tyler, Wiltshire, England