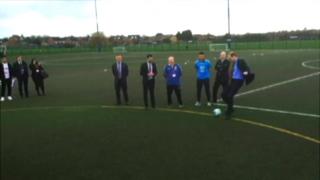 Prince William misses penalty with pupils
The Duke of Cambridge missed a penalty whilst enjoying a kick-about with pupils in Birmingham.
It may have been the line-up of press photographers behind the goal who put him off his stride as the prince, a keen Aston Villa fan, blazed the ball wide.
He was visiting the school to see the Football for Peace initiative in action. It uses sport to bring together young people from different backgrounds.
The prince was also in Birmingham to see a number of projects which support young people, including The Diana Award, an anti-bullying charity set up in memory of his late mother.