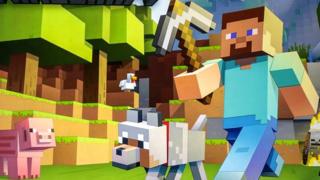 AP
It was originally created in 2011, and has gone on to be the single best-selling PC game of all time. Now Minecraft's heading to Wii U.
The game has been sold on nearly every imaginable platform, now it'll finally be available on Wii U from December 17.
The Wii U version of the game will include some of the game's more popular content add-on packs that have been released over its life on other platforms. Additional content packs, like The Simpsons and Dr. Who, will also be available for in-game purchase.
It means players will be able to play on the TV, with up to eight players taking part in group building, gathering, and survival.
But some tech experts are wondering why it has taken so long to come out on this hardware, and that most of you guys will already be playing it elsewhere. Plus, it costs a cool £20.