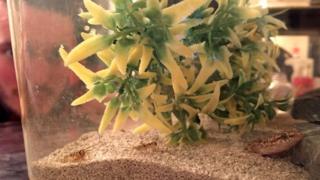 Gecko found in a pack of broccoli
Last Christmas 11 year-old Charlie's mum, Jolene, was cooking dinner when she found a live gecko in a pack of broccoli.
The little reptile had travelled from Spain to a supermarket in Powys, Wales, hidden amongst the green vegetables.
Before the surprise discovery Charlie had wanted a gecko as a pet and had been asking his parents for one.
The family decided to keep the stowaway pet and have now named him 'Broc'.
So how has Broc's first year gone in his new home? Martin has been finding out.