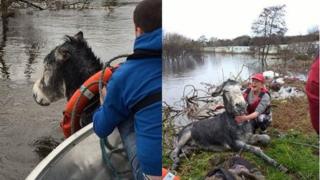 AHAR
A donkey can't stop smiling after he was dramatically rescued from flood waters in Ireland.
The Animal Heaven Animal Rescue charity received a call from Mike the donkey's worried owner after he escaped into a flooded field.
The charity immediately put out an appeal on social media, asking if anyone had a boat to help rescue the donkey.
Someone came forward, and they took the boat out to Mike in the flooded field.
Rescuers workers had to carefully put a life buoy over the donkey's neck, and then tow him to land.
Once he was out of the water, vets checked him over and he ate a big bowl of vegetables.