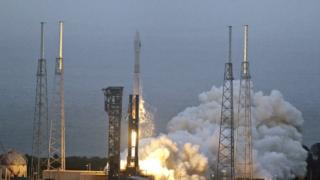 Rocket sends supplies to ISS
A spacecraft carrying much-needed US supplies has blasted off toward the International Space Station, for the first time in months on Sunday.
The Atlas 5 rocket lifted off from Cape Canaveral Air Force Station after three days of delays due to poor weather.
The capsule carries more than 3,500kg of food, clothing, computer gear, spacewalk equipment, science experiments and other supplies.
The station currently only has four months' food supply aboard. Nasa aims to keep the supply cushion at six months.