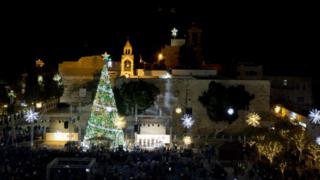 Christmas lights go on in Bethlehem
The Christmas lights have been switched on in Manger Square in Bethlehem.
Thousands of people came out to watch the event. With the spectacular Christmas tree being the main attraction.
The tree has been decorated with 45,000 lights and an amazing 6,500 baubles.
Christmas is a major event for the biblical town, because Bethlehem is traditionally known as the birthplace of Jesus and where the Nativity takes place.