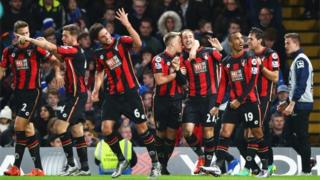 Getty Images
Bournemouth beat Chelsea 1-0 at Stamford Bridge yesterday, for a famous win.
They are the first newly promoted side to beat Chelsea at home since April 2001.
Bournemouth have never played in the Premier League before, and their manager, Eddie Howe, described the 1-0 victory as "the biggest result in the club's history."
Striker Glenn Murray scored the winning goal in the 82nd minute.
It was Bournemouth's first win since since beating Sunderland in mid-September, and moves the south coast club one point clear of the relegation places.
Bournemouth manager Eddie Howe:
"It was really emotional in the dressing room afterwards. I'm so proud of them. The club has never been in the Premier League so winning at the champions is a huge result for the club. Hopefully it will be talked about for a long time to come but we don't want this to be a one-off game."