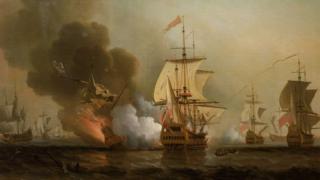 National Maritime Museum
A huge treasure ship, which sank around 300 years ago, has been found at the bottom of the ocean in Columbia, in South America.
The ship was an old Spanish galleon called the San Jose, a large boat with huge sails and lots of different decks.
Galleons were initially used for sea battles during the 16th and 18th Century, or for carrying items to trade with other countries.
The President of Columbia Juan Manuel Santos said: "Great news! We have found the San Jose galleon,".
The San Jose was carrying gold, silver, gems and jewellery which was going to be shipped to Spain's king to help fund his war against the British, when it was sunk in June 1708.
People think the treasure might be worth around £2.6bn-£11bn!
There are currently arguments going on between the Columbian government and the Sea Search Armada, who found the area where the ship sank, over who owns the treasure.