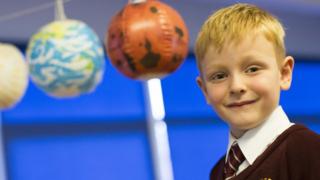 Boy asks how much to send letter to Mars?
Ever wondered how much money it would cost to send a letter to Mars?
Well a five-year-old boy from Lancashire, who dreams of becoming an astronaut, has found out...
Oliver wrote to Royal Mail asking how much it would be to send a Christmas card to the red planet.
Staff, with the help of Nasa Kennedy Space Centre in Florida, told Oliver that a letter with a "normal" weight would cost £11,602.25 to send the 567 million kilometres from Earth to Mars and back.
Jenny explains...