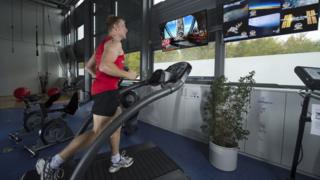 Bob Martin/Virgin Money London Marathon
British astronaut Tim Peake is going to try to become the first man to run a marathon in space as part of his mission on board the International Space Station.
Tim will run a digital version of next year's London Marathon on a treadmill as the space station orbits the earth.
He'll be doing it at the same time as more than 37,000 people run in the race back on Earth in London.
He'll also be watching a video of the course on a screen in front of him.
"The London Marathon is a worldwide event. Let's take it out of this world," he said.
Tim is hoping to finish in less than four hours; he ran the London Marathon in 1999 in 3 hours, 18 minutes, 50 seconds.
To stay on the treadmill Tim will wear a harness to combat the zero gravity in space.
NASA astronaut Sunita Williams is the only person so far to have run a marathon in space.
She ran on a treadmill in 1997 at the same time as the Boston Marathon.